With a brush and paint can in hand, in the heat of the August sun, artist Paris Woodhull ('17) puts the finishing touches on a 14-foot tall mural on a cinder block wall in South Knoxville with strokes of vivid orange, pink, and blue. Kristin Luna ('05) watches her from the ground, seeing the culmination of months of planning on a project that celebrates women and brings more public art to Tennessee.
The project, named Walls for Women after suffragists' slogan "Votes for Women," is the brainchild of Luna and her husband, Scott van Velsor, both journalists who started the nonprofit organization Do More Art Events in 2018 with their friend Emilie Hitch. The initial goal was to bring more art and creativity to rural communities in Tennessee, and the result has been the creation of seven murals by women artists.
As a writer, Luna says, she has always been drawn to powerful and creative female figures, so she began brainstorming with her husband how the organization could incorporate a "paint day" to honor the 19th Amendment centennial. "That turned into a paint week, which eventually became a paint month," she says.
For Luna, the combination of the centennial celebration and the state of the country's social climate was a major impetus for the project. "We're at a time in our nation when women are feeling smothered," Luna says. "And we want to be a part of that solution that allows women more freedom in their craft and honors their talents."
In that spirit, Luna offered artists the opportunity to create whatever they wanted without parameters. "So much of our lives as women is dictated or critiqued, and we wanted to shatter that glass ceiling of dictating a woman's fate by allowing female artists the freedom to be themselves."
Woodhull painted the mural Victoria at Printshop Beer Co. in South Knoxville. The mural features people of diverse skin tones wearing vibrant clothes dancing and hugging one another.
She says the work was inspired by distant relative Victoria Claflin Woodhull, a suffragist and the first woman to run for president (as a member of the Equal Rights Party in 1872).
"I love that connection and that I get to create something that is so me for this project," Woodhull says. "I feel that in a small way I am carrying on her legacy by doing what I love."
Luna asked Woodhull to be a part of the project, in part, because of the integration of whimsy and social commentary in her art—an important balance necessary for the murals to make a statement and appeal to the community.
"Paris is a big proponent of social commentary—like the importance of voting—and advocate for equality, and I love an artist who stands for important bipartisan issues," Luna says.
The large scope of the Walls for Women project called for the assistance of other alumni, too. Blount Partnership sponsored the mural Senderos at Maryville's Bike N' Tri sporting goods store, owned by William Norris ('15). Kim Farmer Mitchell ('94), tourism director for Blount Partnership, championed the project and was the project lead from her organization.
The mural Hebe, sponsored by the McMinnville Tourism Development Authority, is based on a statue of the goddess of youth that has stood in the town for more than a century. Mayor Ben Newman ('02), who was the project lead, immediately noticed the impact.
"It has had a wonderfully positive impact on our community just from the time that the women who worked on the project started putting paint on the wall," Newman told the Tennessee Municipal League. "My five-year-old daughter and her friend got to see women doing something in a creative role and doing something so special. It shows them they can really do anything they want to."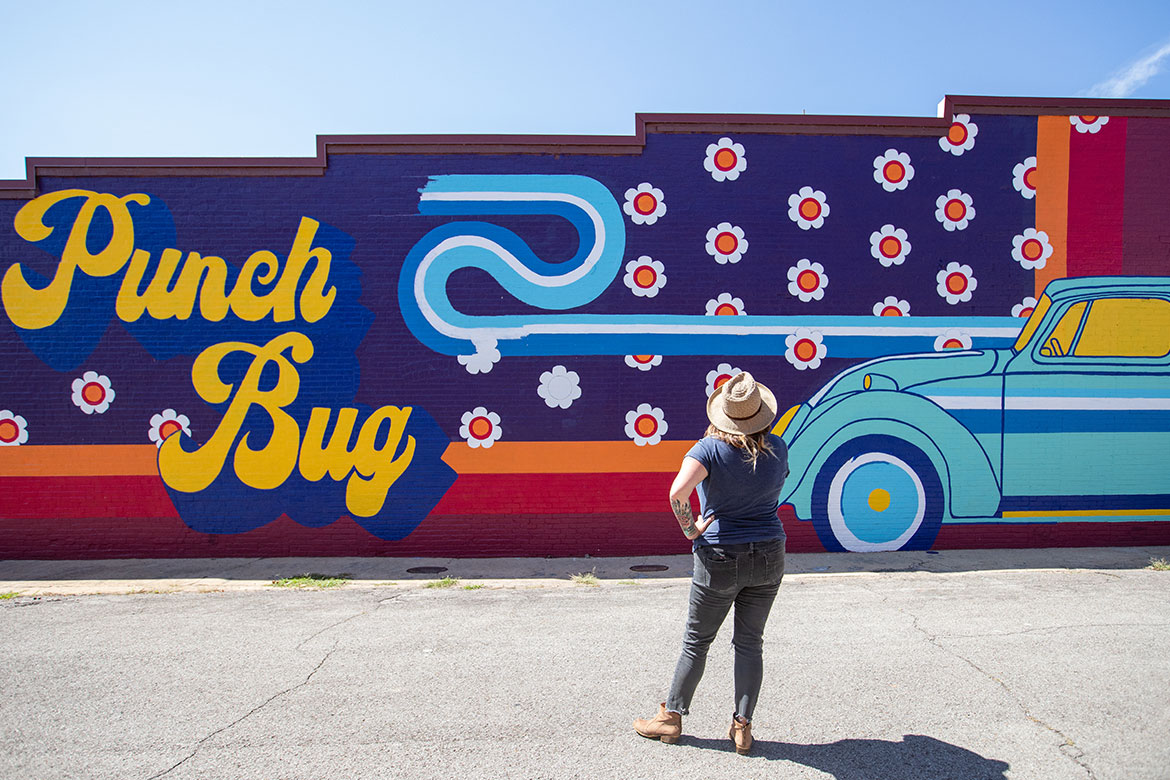 Luna had similar experiences at the murals. "There's been a young girl at almost every install who has fallen so in love with the art that her mom has brought her back every day to watch the artist paint."
She notes that a large group of elementary school-age girls gathered to cheer on the town of Nolensville to support a mural in their community. When the city's Board of Mayor and Aldermen declined funding, the girls and their parents started petitions, wrote letters, wore "girl power" shirts, and inspired project lead Debbie Schreiber Brown to launch a Kickstarter for the ultimately successful cause.
"They also showed up to the town hall lawn and peacefully protested with signs when the Historic Zoning Commission voted down our first location, which I think is so cool of elementary school kids to do," Luna says.
Walls for Women not only is serving as an outlet for women to express themselves and let their creativity soar without boundaries, but it's also clearly impacting the next generation of women.
"Girls are learning from a young age that they can do, and be, anything they want to," says Luna. "And there's so much fulfillment in seeing that realization come to light."
See More Art
Take a public art road trip in Middle and East Tennessee to see all the Walls for Women murals.
Visit dma-events.com/our-murals for an interactive map showing the murals and their locations.
Do More Art
The positive community response to the Walls for Women project has inspired Luna to expand outside the borders of Tennessee. "We've already had interest from our Southern neighbors, so it's not out of the realm of possibilities that we introduce Walls for Women to other states in the coming years," she says. Want to help bring a mural to your town? Visit dma-events.com for more information.