There are a lot of great things to love about this place that we call home. Even our alumni and friends who don't live here any longer can agree that there's no place like UT. Let's take a look at some of the things that make Rocky Top so special.
Aloha Oe
With a muddy tug of war, female students dressed in grass skirts, and the strumming of ukuleles, the first Aloha Oe was held in 1926 on Shields-Watkins Field. Though the event is now more formal, its purpose is the same—to give graduates a fun and meaningful end to their undergraduate years.
Bones
UT is home to the Forensic Anthropology Center and its outdoor research facility—popularly known as the Body Farm. With impressive skeletal collections and a body donation program, the center is world renowned for its research and training offerings. In 2017, bones that have lived under Neyland Stadium will have a new home in Strong Hall.
Center for Leadership & Service
With programs and service-learning opportunities, the center is educating and engaging Vols to become leaders in the local and global community. A partnership between the center and the Department of Educational Leadership and Policy Studies recently led to a leadership studies minor, and scholarships are available to students who have demonstrated leadership on campus.
Daily Beacon

An editorially independent student-produced newspaper has been a campus tradition since 1871. The award-winning Daily Beacon (established in 1965) is a training ground for future multimedia journalists, photographers, cartoonists, and more. Notable alumni include cartoonist Marshall Ramsey, who has been twice nominated for a Pulitzer Prize, and ESPN journalist Paul Finebaum.
EXPERIENCE LEARNING

Getting out of the classroom and putting education into action is an invaluable experience for students. Thanks to this new initiative, Vols now have more opportunities to be involved in civic engagement, to solve complex real-world problems, and to contribute to the welfare of their communities as part of their regular coursework.
Fab Lab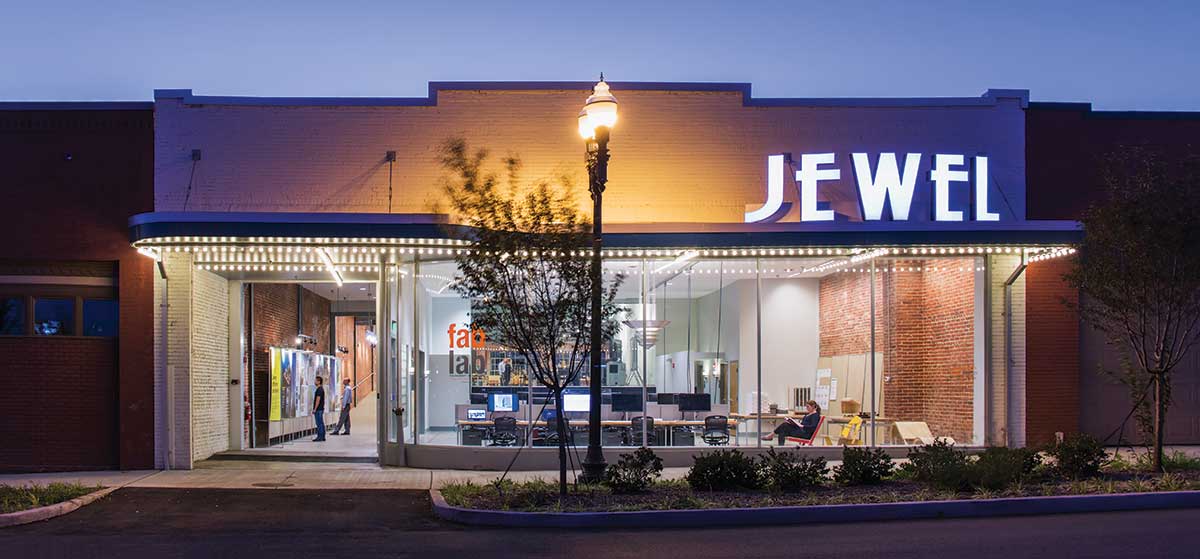 UT's state-of-the-art fabrication facility on North Gay Street features 3-D printers, a water-jet cutter, laser cutters, an x-axis mill, robotics, and metal and woodworking equipment, helping students in the College of Architecture and Design learn with technologically advanced tools. The lab also supports the college's design-build program, energy and urbanism focus, and research.
Great Smoky Mountains National Park
With unrivaled vistas and more than 800 miles of hiking trails, it's easy to see why the Great Smoky Mountains National Park is the most visited in the United States. At less than an hour from campus, the park is practically in UT's backyard. And the park is great for more than just recreation—at any given time during the year, UT has around 100 faculty members and twenty to thirty students researching, teaching, and learning in the park.
The Hill
Standing above the north shore of the Tennessee River, the Hill holds the university's oldest buildings, including Ayres Hall and South College. The university moved to the Hill in 1826 after Thomas Jefferson recommended that it be moved from a single building to somewhere it could spread out. However, most students and staff know the Hill for giving them killer calf muscles.
International House

Attending university in a foreign land can be exciting but scary. The I-House is a home away from home for international students at UT. It also develops events, presents programs, and offers training and resources to increase all students' knowledge of other cultures and international events.
Jackson, Johnson & James K. Polk Papers

UT Libraries' Special Collections houses research and primary sources concerning these Tennessee presidents. And the Papers of Andrew Jackson project has published seventeen volumes of Jackson's entire extant literary record. The project and UT Libraries most recently purchased the Jackson family Bible, which is on display in Special Collections.
Knoxville

Big city meets small-town southern charm in our ever-growing Knoxville. With an abundance of outdoor activities, a thriving music and arts scene, eclectic shopping, and plenty of restaurants (some helmed by highly regarded gourmet chefs), Knoxville has a lot to offer. And the city will continue to grow and change in the coming years with the South Knoxville waterfront and Cumberland Avenue redevelopment projects.
Living and Learning Communities

First-year students can begin their college career surrounded by others who share their passions. UT offers twenty-three living and learning communities organized around interest areas such as academic disciplines, interest in leadership activities, and ROTC participation.
Marching Band
There's nothing like hearing the Pride of the Southland Band playing "Rocky Top" after a touchdown. The band is one of UT's best-known traditions, and there's been a band on campus for nearly 150 years. The band has made more than forty bowl appearances, played at twelve presidential inaugurations, and has been opening the T at football games for fifty years.
Nuclear Engineering
With close ties to Oak Ridge National Laboratory, Y-12 Nuclear Security Complex, and the Tennessee Valley Authority, as well as internationally recognized faculty, it's no wonder that the Department of Nuclear Engineering's graduate program is ranked number five in the nation by U.S. News and World Report.
Outdoors
Within a short drive of UT, you can mountain bike on some great single track, raft down world-class whitewater, or hike through the Great Smoky Mountains—all made possible for students with UT's Outdoor Program. And just three miles from campus is Knoxville's Urban Wilderness, a thousand forested acres along downtown's south waterfront with nearly fifty miles of multi-use trails, ten parks, four Civil War sites, and incredible views.
Printmaking

The School of Art's Printmaking program is ranked second among all public and private schools in the nation, according to U.S. News and World Report. The program has professionally active faculty, a history of collaborative projects with visiting artists, and a student-led print club. In March 2015 they hosted the SGC International Printmaking Conference, which brought 1,600 attendees from forty-nine states and twelve countries to Knoxville.
Quarterback
Without a doubt, alumnus Peyton Manning is the best-known quarterback to play at UT. Putting football aside, Manning is exceedingly generous to his alma mater. Since 1998, the Peyton Manning Scholarship has been awarded to select students in UT's honors program. The scholarship covers tuition, room, and board.
Rocky Top Institute
Retail and Consumer Sciences students, in partnership with the Bryant family (heirs of the "Rocky Top" composers), design and market products based on UT's unofficial fight song. Proceeds from the products are divided between the Bryant family, the marching band, and the RCS program.
Statues
General Neyland, Pat Summitt, Europa and the Bull. There are quite a few statues on campus, but none so recognizable as the Torchbearer. The classes of 1928–1931 held a sculpture contest and awarded $1,000 to the winner. Due to the Great Depression, World War II, and controversy over multiple designs, the nine-foot-tall statue wasn't erected on campus until 1968.
Tailgating
Tailgating and football go hand in hand, and Vol fans take them both very seriously. Not only is campus filled with tailgaters, but the Tennessee River is as well. In 1962, Vols broadcaster George Mooney piloted his runabout along the river to Neyland Stadium, inspiring the Vol Navy—now a flotilla of hundreds of vessels carrying Vol fans to Big Orange Country.
UT Gardens
Part of the UT Institute of Agriculture, the UT Gardens are the official botanical gardens of Tennessee. The gardens are open year round and are free to the public. They also function as an outdoor laboratory for faculty and student researchers. Some 4,000 annuals, perennials, herbs, tropicals, trees, shrubs, vegetables, and ornamental grasses are evaluated each year, benefiting millions of professional and home gardeners.
Volapalooza
This outdoor end-of-the-school-year concert is the largest student-organized event on campus. It began in 2003 in Circle Park and has since moved to larger venues like Thompson-Boling Arena and World's Fair Park. Past performers have included Ben Folds, Ziggy Marley, Passion Pit, Three 6 Mafia, and (UT alumni) the Dirty Guv'nahs.
WUTK
WUTK is an independent college radio station that began broadcasting in 1982. Students from throughout the university work in the station to gain valuable experience in a wide range of fields like journalism, broadcasting, public relations, and more. The station is consistently named one of the best in Knoxville.
Smokey X
Those eyes. That howl. How can any Vol not love Smokey? The tenth Smokey took up his official duties as mascot in 2013. He had a big year in 2015 as cover dog for Torchbearer magazine, being painted on the Rock, and starring with his handlers in a popular video. He started out 2016 with a trip to the beach and his second bowl game win.
Y'all
UT is filled with outstanding students, world-renowned faculty, and hardworking, talented staff, but it would not be the institution it is today without y'all—our alumni and friends. The support you show UT grows each year, and we know that we cannot reach our goals without you.
Zero Waste
UT Recycling partners with various campus organizations to divert waste created on campus and during athletic events through reduction, reuse, recycling, and composting practices. About 3,000 tons of campus waste is diverted from landfills each year. Several major campus events achieve zero waste status each year by diverting 90 percent or more of their waste from the landfill.
—

There are so many great things about UT that we could have made multiple A to Z lists. So, what did we miss? Share your A to Z list with us by e-mail at torch@utk.edu or leave a comment below. We may share your contribution in a future issue of eTorch.